INDIVIDUAL SUPPORT
SMALL & MIGHTY DONOR
'Small & Mighty' signifies the strength of collective impact – many hands make for light work.
Small & Mighty Donors contribute $10 each month ($120/year) to ensure that Hattiloo has funds to help pay its monthly bills. While it's a modest amount, the impact is vital for Hattiloo's day-to-day operations.
While some donors see their contributions in the form of sponsorships or capital gifts, Small & Mighty donors have the benefit of sitting in the audience and saying to themselves "these lights are on because of me; there's soap in the bathroom because of me."
These donors make a small donation each month and a mighty difference throughout the year. Won't you join us? Put on your cape and become a Small & Mighty donor today!
For more information, email give@hattilootheatre.org.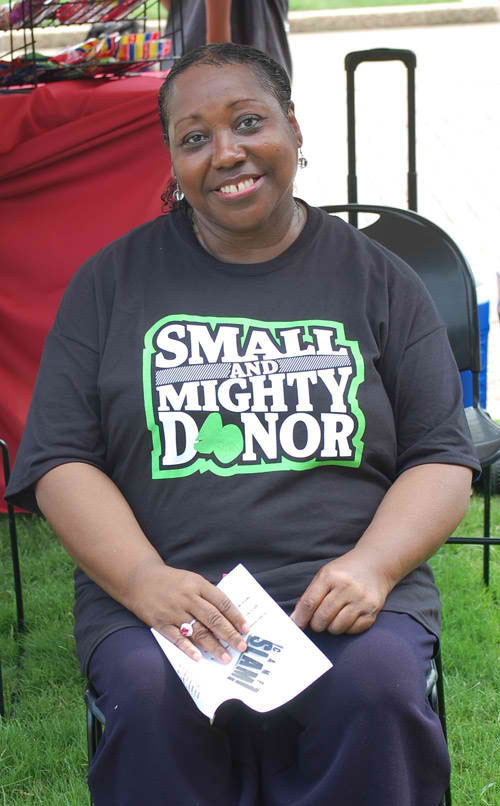 HATTIBIRTHDAY TO YOU
Do you already have enough decorative bowls, or stylish neckties? Ask your friends and loved ones to make donations to Hattiloo in your honor at any time during your birthday month, and establish an annual fund in your name.
For example – if your friends donate a total of $500, we would recognize you (JANE SMITH FUND) in all playbills and on our website for one year; you'll also get the benefits of your respective level – $500 would be the 'Celebrity' donor's level, which means you would receive two free tickets to the current Season performance of your choice, and an invitation to Hattiloo's Holiday Cocktail. If enough gifts are contributed in your honor, you could even sponsor a play!
Please consider sharing your special day with us. Ask your friends to forget the gift card to some steakhouse and give you the gift that keeps on giving – tell them to make yours a HattiBirthday.
Email give@hattilootheatre.org for more information.
MATCHING GIFTS
Your Gift May Be Worth More. Many employers offer matching gift programs that double or even triple your donation to Hattiloo, giving you the additional benefits associated with the higher level of giving.
Aetna Healthcare
American Eagle Outfitters
Archer Daniels Midland (ADM)
AT&T
AutoZone, Inc.
Avis Budget Group, Inc.
Banana Republic (Gap Corp)
Bank of America / Merrill Lynch
Baymont Inn & Suites (Wyndham Worldwide Hotel)
Burlington Northern and Santa Fe Railway
Cardinal Health, Inc.
Carlson Companies (Radison Hotels, Country Inns, TGI Fridays)
CarMax
Carrier (United Technologies Corporation)
CBRE Group, Inc. (formerly CB Richard Ellis Group, Inc)
Charles Schwab Corporation
Choice Hotels International (Comfort Inn, Comfort Suites, Quality Inn, Sleep Inn, Clarion Hotel, Suburban Extended Stay, Econo Lodge, Rodeway Inn)
Cigna Corporation
Clarion Hotel (Choice Hotels International)
Coca-Cola Company – Coke
Comfort Inn (Choice Hotels International)
Comfort Suites (Choice Hotels International)
ConAgra Foods, Inc.
ConocoPhillips Company
Cooper Tire & Rubber Company
Costco Wholesale Corporation
Country Inns (Carlson Companies)
Cummins Inc.
Days Inn (Wyndham Worldwide Hotel)
Econo Lodge (Choice Hotels International)
First Horizon National Corp / First Tennessee Bank
First Tennessee Bank / First Horizon National Corp
Gap Corp (Gap, Banana Republic, Old Navy)
General Electric
General Mills, Inc.
GlaxoSmithKline
Goldman Sachs Group
W. W. Grainger, Inc.
Home Depot
Host Hotels (Sheraton Memphis Downtown)
Humana Inc.
Ingram Micro, Inc.
Johnson and Johnson
Johnson Controls, Inc.
JPMorgan Chase & Co.
KFC / Kentucky Fried Chicken (YUM Brands)
Kimberly-Clark Corporation
Kinder Morgan, Inc.
Kindred Healthcare
Knights Inn (Wyndham Worldwide Hotel)
Liberty Mutual Group
Macys, Inc.
MassMutual Financial Group
McDonald's Corporation
McKesson Corporation
Medtronic, Inc.
Mercedes-Benz U.S. International Inc.
Merck & Co.
Merrill Lynch / Bank of America
Microtel Inn (Wyndham Worldwide Hotel)
Nike, Inc.
Norfolk Southern Railway
Old Navy (Gap Corp)
Otis Elevator Company (United Technologies Corporation)
Pepsico
Pfizer, Inc.
Pizza Hut (YUM Brands)
Pratt and Whitney (United Technologies Corporation)
Prudential Financial, Inc.
Quality Inn (Choice Hotels International)
Radisson Hotels (Carlson Companies)
Ramada Inn (Wyndham Worldwide Hotel)
Raymond James
Regions Financial Corporation
Rodeway Inn (Choice Hotels International)
Sheraton Memphis Downtown (Host Hotels)
Sleep Inn (Choice Hotels International)
Sprint Nextel Corporation
Starbucks Corporation
Suburban Extended Stay (Choice Hotels International)
SunTrust Banks, Inc.
Super 8 (Wyndham Worldwide Hotel)
Taco Bell (YUM Brands)
TGI Fridays (Carlson Companies)
Toys "R" Us
UBS Financial
Unilever
Union Pacific
United Technologies Corporation (Pratt and Whitney & Otis Elevator Company)
Unum Group
Valero Energy Corporation
Verizon
Vulcan Materials Company
W. W. Grainger, Inc.
Wingate by Wyndham (Wyndham Worldwide Hotel)
Wyndham Worldwide Hotel (Baymont Inn & Suites, Days Inn, Knights Inn, Microtel Inn, Ramada Inn, Super 8, Wingate by Wyndham)
YUM Brands (KFC, Taco Bell, Pizza Hut)