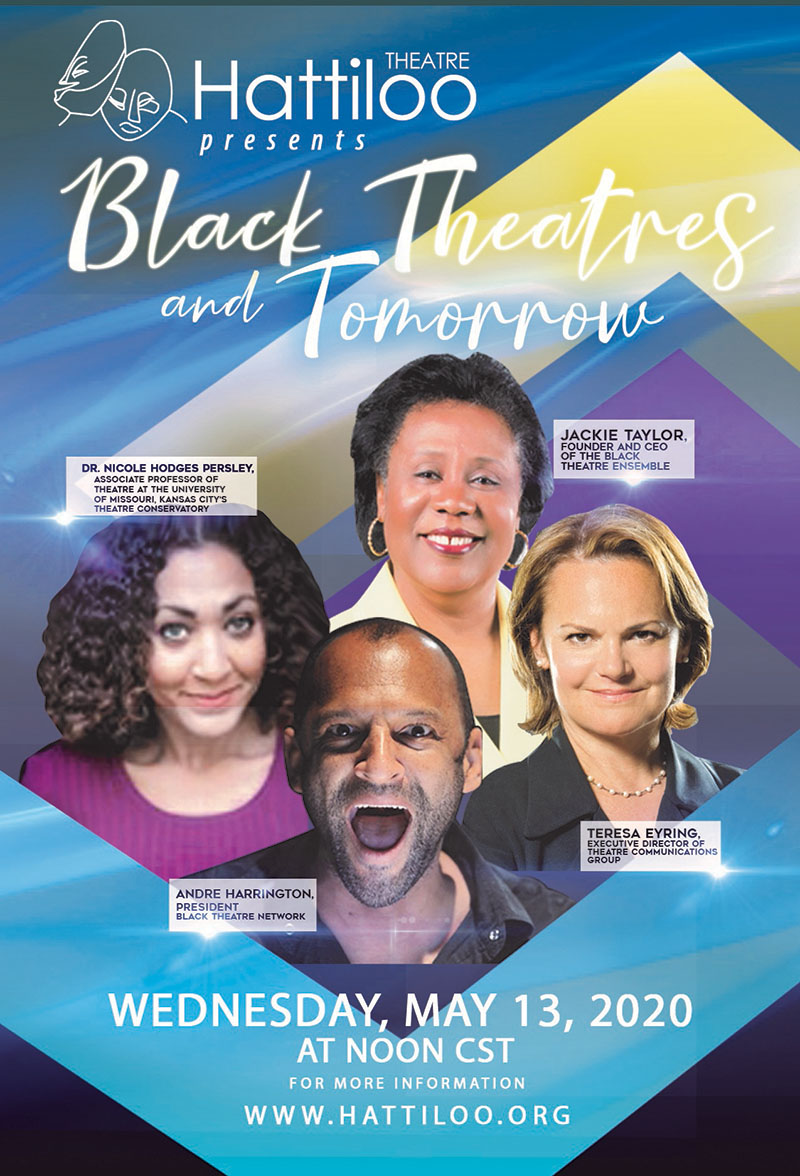 You're invited to participate in a free Zoom panel discussion titled 'Black Theatres and Tomorrow', on Wednesday 13 May 2020 at noon CST. Covid-19 has changed the way all theatres operate and fulfill their missions. Let's discuss and brainstorm what opportunities are available that can help strengthen Black theatres for the future.
The panelists are:
TERESA EYRING (executive director of the Theatre Communications Group)
ANDRE HARRINGTON (Professor of Design at California State University, San Bernardino and president of the Black Theatre Network)
DR. NICOLE HODGES PERSLEY (Associate Professor of Theatre at the University of Missouri, Kansas City's Theatre Conservatory and Artistic Director of the KC Melting Pot Theatre)
JACKIE TAYLOR ( Founder of the 44-year-old Black Ensemble Theater in Chicago, and acclaimed director, playwright and actress).
COVID-19 Update
Dear Patrons, Supporters and Friends of Hattiloo Theatre,
In compliance with the City of Memphis' declaration of a state of civil emergency, Hattiloo Theatre will remain closed until further notice. Due to the CDC's recommendation the day before, on Monday, March 16, at noon, we asked our staff to work from home and determined that the final weekend performances of Women In The Pit would be cancelled. The health and wellbeing of our audience, cast, crew and staff are of utmost importance.
If you have purchased tickets for any of the March 19 – 22 performances, you may hold them for exchanging on a future Season 14 date, request a refund, or, contact us to convert your purchase to a donation to the theatre. We have already received notice from several patrons to redirect their purchase to a donation and we are most appreciative. You may email your request for refund or donation to: manager@hattilootheatre.org.
Opening of the two remaining shows scheduled for Season 14, Buzzer (April 24 – May 24) and Marie and Rosetta (May 22 – June 14),will be determined once we have information on resuming normal activity. Please understand that time for rehearsals, set building and other preparations must be considered in order to make this determination.
You are our greatest asset. We ask for your understanding and patience as we all experience this unprecedented situation. There is no doubt that, TOGETHER, we will all return to our theatre to experience the great art that has been presented by Hattiloo Theatre since 2006.
Sincerely,
Ekundayo Bandele, Founder & CEO

As the only freestanding Black repertory theatre in five surrounding states, Hattiloo has developed a strong regional audience. Hattiloo is known for offering high-quality, free programming and performances staged throughout the city, engaging over 5,000 people each year. The evolution of its artistic vision and programming, and the success of its business model has made Hattiloo a sought-after resource nationwide.