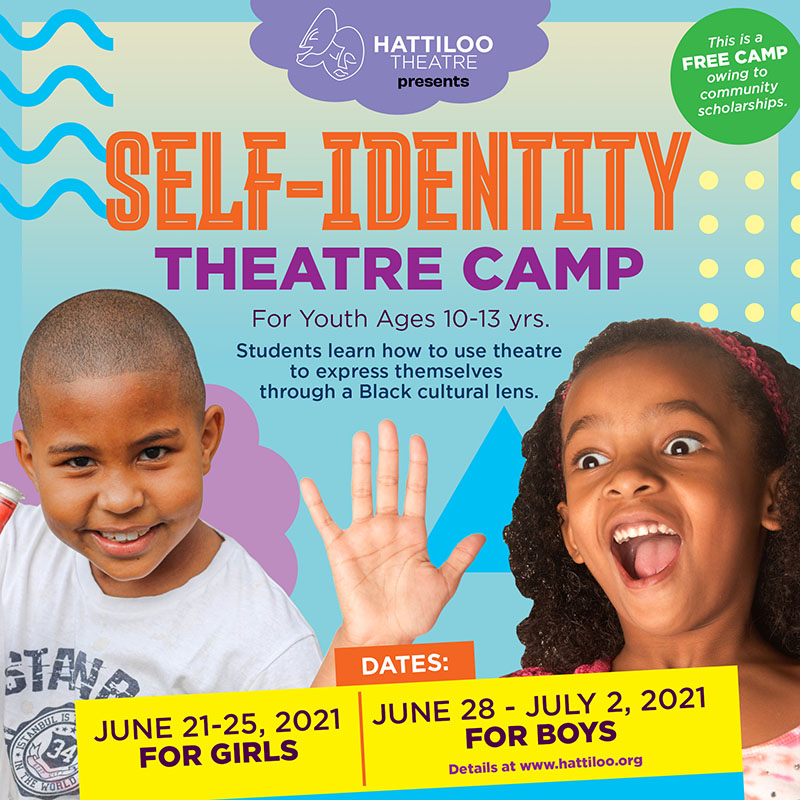 Self-Identity Theatre Camp
Most of our Black youth grow up simply "learning to cope". Rather than acquiring the tools to heal and take care of themselves, they utilize unhealthy survival mechanisms that breed dysfunctional codependency on external sources.  We must equip our Black youth, as early as possible, with the tools they need to thrive, instilling self-love and promoting inner peace. To achieve this, Hattiloo's "Self-Identity Theatre Camp," employs the following tools:
ACTING – (speaking for self-expression)
DANCE (moving for self-expression)
FASHION – (dressing for self-expression)
Our camp will be divided into two groups: one week for our community of girls and the other for our community of boys. This gives our young people a safe space to share their thoughts and feelings, form community with their peers, and discover experiences that connect them to their village. We only have space for 10 young people, and all applicants will be received on a first-come, first-served basis.
Classes are Monday – Friday, 9a – 330p. The culminating performance is Friday, June 25, 2021 at 6p for girls; Friday, July 2, 2021, at 6p for boys. Each child will receive a private box that seats four people, and a virtual link to their culminating performance.
Scholarships are made possible by:
Robert Cox
Glassman Wyatt Tuttle & Cox, P.C.
Calley Anderson, Playwright
Joceyln Henderson
Faith Morris
Charlie Pleas
Donnell R. Cobbins, Jr (In Memoriam)
Cecilia Sawyer
Charles Blank
Mack and Fay Weaver
Vernon Stafford
David McKinney
Lani Glancy
Russ & Tomeka Wiggington
Cynthia Collins
Self Tucker
Karen Potts
N-Y-Time Plumbing
AutoZone