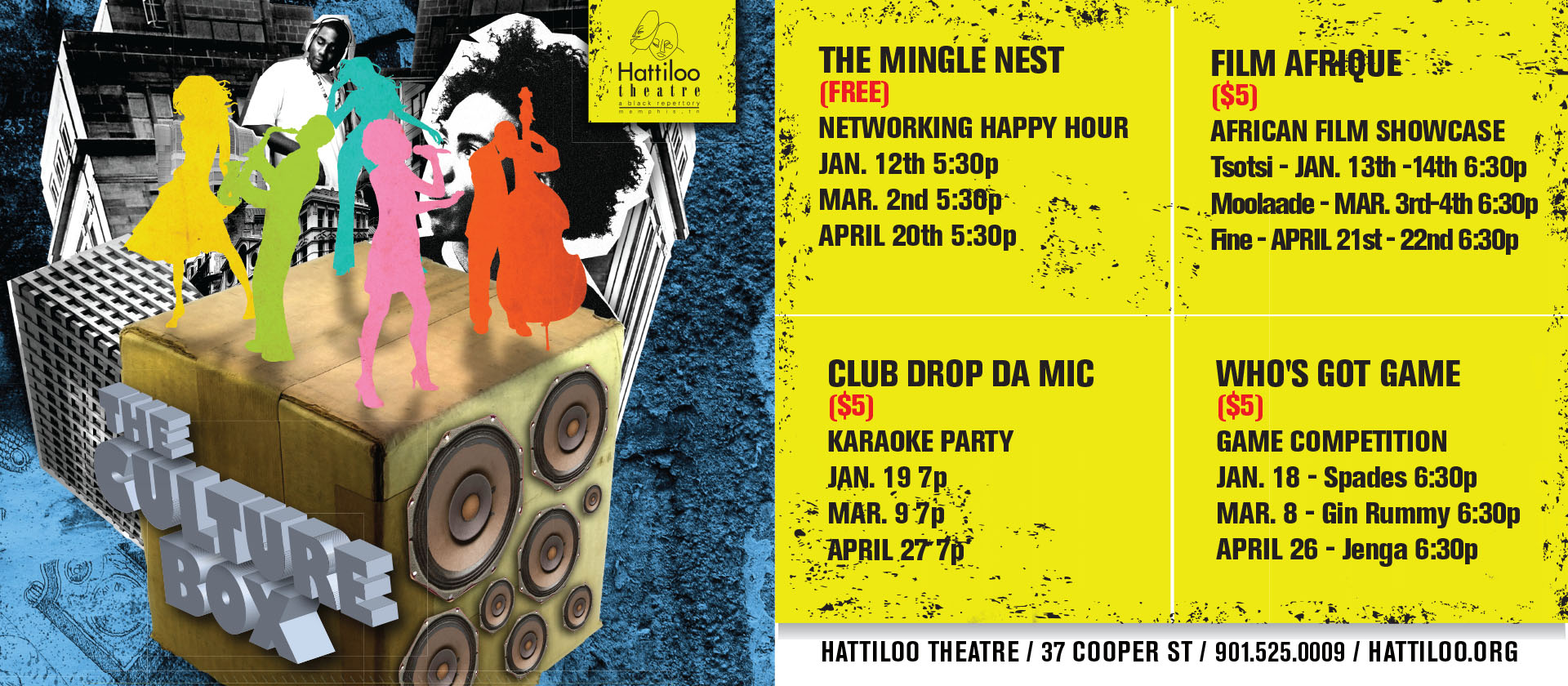 The Culture Box
There is always something happening at Hattiloo that you don't want to miss. Our Culture Box is packed with activities and events that are meant to accelerate connection, spark your creativity, and just flat-out have fun. There will be nibbles and a cash bar.
THE MINGLE NEST (FREE)
Whether you're an entrepreneur, small business owner, corporate professional, in the non-profit sector, or entertainment industry – this event offers you the perfect occasion to expand social or enterprise contacts, all in our creative setting.
UPCOMING DATES
Thursday, Jan. 12th at 530p
Thursday, March 2nd at 530p
Thursday, April 20th at 530p
FILM AFRIQUE ($5/includes popcorn) 
Free for Hattiloo donors – Small & Mighty+
If you're looking for some indie movies to share the experience of watching some of the best films from various African countries, this is the event for you. Take a break from the couch and come out to sit in an audience with others who enjoy and appreciate thought-provoking, quirky and relevant, award-winning independent films.
UPCOMING DATES
Friday and Saturday, Jan. 13th and 14th at 630p
TSOTSI
In Johannesburg, a small-time criminal, Tsotsi, hijacks a car. However, whilst driving, Tsotsi finds that there is a baby in the back seat. The next six days bring about a change in him that couldn't be foreseen.
Friday and Saturday, March 3rd and 4th at 630p
MOOLAADÉ
When a woman shelters a group of girls from suffering female genital mutilation, she starts a conflict that tears her village apart.
Friday and Saturday, April 21st and 22nd at 630p
FINYE
Two Malian teenagers from different backgrounds meet at secondary school. The two teenagers are part of a generation that rejects the established order and challenges the society in which they live.
WHO'S GOT GAME ($5)
Get ready for a game night like no other! This event offers immersive group game experiences that are competitive and exciting. Our hosts will make sure your night is filled with laughter. Gather your partner and come to Hattiloo for a night of unforgettable fun.
UPCOMING DATES
Wednesday, Jan. 18th at 630p – Spades competition
Wednesday, March 8th at 630p – Gin Rummy competition
Wednesday, April 26th at 630p – Jenga competition
CLUB DROP THE MIC ($5)
Karaoke Party
Calling all lovers of R&B, old and new school! Music has the power to refresh the people's heart and soul. So, don't be shy, let's do it for the fun. Warm your vocal cords, loosen up from your daily hectic schedule, and come out to join the fun.
UPCOMING DATES
Thursday, Jan. 19th at 630p
Thursday, March 9th at 630p
Thursday, April 27th at 630p